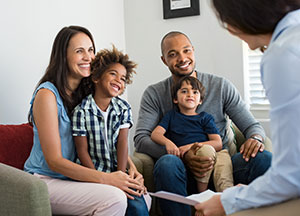 Why should I hire a real estate pro to buy or sell a house? If you've ever asked that question, the quick answer is guidance. You need a real estate pro to guide you, no matter where you land on the home buying or selling spectrum.
And guidance is only one of the reasons why using an agent will matter to you. Whether you're a home buyer or seller, before you type "real estate agents near me" into your favorite online search tool to look for a local agent, it's a good idea to first review these ABCs on the importance of hiring a real estate pro.
Access
Access to the Multiple Listing Service (MLS) is critical to selling a home and real estate pros have this tool in their toolbox. The MLS is the most up-to-date database of all homes for sale. Real estate listings on the MLS are also important because every other real estate pro in the area will have access to the details about your home. The MLS maximizes your reach to a greater pool of potential buyers.
MLS access also matters if you're in the market to buy a home. When you have decided that you're ready to buy, it's a good idea to first do some preliminary searches online by typing in "homes for sale near me now." Reviewing available real estate listings in areas you're interested in can help you set purchase price expectations and give you the chance to think about specific features you want the home to have. That information is helpful to then provide to your real estate agent, who will review MLS for all of the available homes that match your requirements. Another benefit to MLS access? If you want to see a home your agent finds, she or he will do the legwork for you, contacting the seller's agent to make the appointment.
Bidding
Unless you negotiate for a living, it pays to have a real estate pro in your corner. Whether fielding bids for your home or making bids on a home you want, agents know how to negotiate. And negotiation just may be the biggest part of the real estate game. With the hot housing market now, bidding wars will be a reality for both buyers and sellers. The real estate pro you hire works for you to get you the best deal.
Clients
A big reason to hire a real estate pro when you're ready to sell your home? Clients. They know people who want to buy a home. And real estate pros will also use their local network to get the word out, helping you reach more potential buyers. Real estate pros rely on client referrals to grow their business. So they work hard to ensure their home-selling or -buying clients are satisfied with the experience. Because the pros know each successful transaction can lead to repeat business.
Details
To buy or sell a home you need to accurately complete a lot of forms, disclosures, and legal documents. A real estate agent ensures you cross every 't' and dot every 'i' to help you avoid having a transaction fall through and/or prevent a costly mistake. And when you hire a real estate pro, you will set up a real estate contract with your agent. This contract protects you, whether you're buying or selling a home. An agent also protects you on offers and counteroffers, using a purchase contract. This contract protects you in the event you want to back out of a deal. Your agent will have your back--an invaluable reason when it comes to dealing with the myriad details involved in buying or selling a home.
Ethics
You may be interested to know that not all real estate agents are REALTORs®. If you were to search online for "realtors near me," chances are your results will include the names of local REALTORs®. When a real estate pro is a REALTOR®, that person is a member of the National Association of REALTORs® (NAR) and therefore abides by a strict code of ethics. This code means REALTORs® may apply a higher level of ethical obligation to their clients than local or standard laws may mandate.
This infographic offers a helpful visual reference of the difference between a real estate agent and a REALTOR®. As you are interviewing a potential agent, ask them if they are a member of NAR.
Experience
Real estate agents have a level of experience that an amateur house hunter cannot replicate. For example, they know how to decode often obscure listing information to uncover homes for sale that have the requirements you need. Your agent's experience dealing with local building codes and zoning laws can also help ensure your home is "to code" if you're ready to sell. And your agent will have experience and advice to offer you on easy home improvements when you first move in and the best remodeling investments to make or the staging tips that put your home in the best light, which help ensure your house gets sold.
Farm
Real estate pros work hard to grow their "farm"—a specific local area or market—in order to develop their business. The pro you hire has farmed (marketed) him or herself in your area, using advertising, postcards, direct mail, and email campaigns. These techniques, which agents at most real estate companies will typically use, help them target locals with the goal of reaching people who will list or buy a home using them. When these leads become their clients, you will have access to them as a potential pool of buyers for your home.
Guidance
A real estate pro is your guide on a journey that has many twists and turns. Your agent helps ensure that the buying or selling of your home goes smoothly. And your agent guides you through each step in the transaction process. It's a long list that includes contracts, escrow, title search, mortgage approval, closing costs, home inspections, offers, contingencies, final walkthrough, signing, and more. A real estate transaction is never easy—and it is often the biggest investment anyone makes in a lifetime. Guidance through a transaction process is vital.
Home Love
Real estate pros love homes. If you've never met one, it may be the first thing you'll notice when you talk to your agent. Their passion for their work matters, because you are dealing with a big investment. You want someone on your side who loves the product they are acquiring, or selling, for you.
Interpersonal Skills
When it comes to relationship building, real estate pros have created an art form. That's because, like all great salespeople, they know how to relate and communicate well with others. A real estate agent also always "knows someone." Looking for a photographer, home inspector, plumber, contractor, handyman, mortgage broker, title specialist, or real estate attorney? Those are just a few of the people or types of businesses in your area that they either know of personally or have used previously and can recommend to you. If you're buying or selling, you want a good salesperson working with you. And after the sale, you'll have a new friend with an indispensable network of other friends that you can tap into whenever you need it.
Learn More About Hiring a Real Estate Agent
Here's a trade secret on why it's a good idea to hire a real estate pro. Agents also have access to info on other properties for sale that may not be advertised. Plus, they regularly connect with their network of agents at other local real estate companies to learn about homes coming on the market.
So, now that you are ready to hire an agent, how do you choose the right one for you?
How Do You Choose Your Realtor?
When you are interviewing prospective real estate agents or REALTORs® to work with, here are six considerations to keep in mind:
1. Get Recommendations
Your friends, family, and co-workers can be great resources when you are ready to hire a real estate agent, so ask if they have an agent to recommend. Chances are, if someone you know had a good experience with an agent, you may have a similarly good experience as well.
2. Three is Key
Even with recommendations, it's a good idea to interview a minimum of three agents, preferably from different real estate companies in your area. Think about choosing a real estate agent in the same way you might hire an employee at your work or business—you want someone with experience, someone you'd be comfortable spending many hours at a time with, and someone you feel you can trust to provide you with the information and help you'll need to buy a home.
3. Listening Skills
When you interview agents, pay attention to how well they listen to you. You will have a lot of questions and needs as you move through the process of buying a home. Knowing your agent hears you and acknowledges your concerns and requirements is important.
4. Communication Matters
You also want to hire an agent who communicates well. Buying a home may be one of your biggest investments, so in addition to listening to you, pay attention to the information the agent is providing to you during the interview. Not only should you feel comfortable that you will receive clear communications from your agent, but you should also expect that your agent can manage the many communications that need to take place during the process, whether with a buyer or seller, their agent, loan brokerages, inspectors, and so on.
5. Ask About Marketing Materials
Be sure to ask agents during interviews for examples of their marketing materials. Are the materials professional, well-presented, and engaging? In particular, if you are selling a home, you will want to know the agent you hire will promote your home well and present it in the best light.
6. Check Review Sites
Use your online skills. Be sure to check out the agent's personal website, and look at reviews, if available, on sites such as Yelp or Google. Keep in mind that as with any reviews you check for other reasons, your own judgment is important, but you can often find review information that matches up with impressions you had during an interview, and that can add to your sense of comfort hiring the agent you choose.
Ask Your Agent About Home Warranty Coverage
Your real estate agent can also provide you with information on the benefits of home warranty protection. First American offers specialized coverage for home buyers engaged in a real estate transaction. When you buy a home you can purchase home warranty coverage with special real estate pricing for up to 60 days after your closing. Learn more about our plans and get a quote.