We spend a lot of time in our homes, so we learn quickly about the essential tools we need to have, particularly as we prepare each year for seasonal changes. But what about for your car? Did you know the average American spends nearly 300 hours driving in their car each year? If you are a real estate agent, chances are, your driving time per year easily doubles that average. And the time you spend in your car will include driving in winter weather, when hazards multiply. Just as you invest in the proper tools to have when something breaks down in your home, you and your family need to have the right tools in your car kit so you are prepared for a roadside emergency, especially in winter.
Essential Tools for Your Winter Car Kit
Depending on the kind of winter weather you endure where you live, there may be additional items you'll need, but every winter car kit starts with these essentials:
Non-Perishables
A sturdy, medium-size plastic container, with lid. You want a container that keeps its contents dry, but if your car is small, or trunk space is minimal, a sturdy bag will do.
A warm blanket. It's good to have a blanket for as many passengers as your car has seats, but that takes up room. Invest in a heavy-duty thermal blanket for the driver of each car you own, then purchase the necessary additional mylar emergency thermal blankets, which are inexpensive, reusable, and take up minimal space.
Extra rain jacket. When you change your smoke detector batteries during Daylight Saving Time, add refurbishing your car kit to the schedule. Every Fall, swap the lightweight rain jacket in your car kit for an insulated winter jacket; switch them again in Spring.
Gloves. Include waterproof, insulated gloves, or stash two pair in the kit; one for warmth and one for making repairs or adding chains in snowy road conditions.
Extra socks. When you get out of the car in bad weather for any reason, chances are you won't be wearing winter boots. Keep an extra pair of warm socks in your kit to change into. Nothing will feel better than warm feet and hands.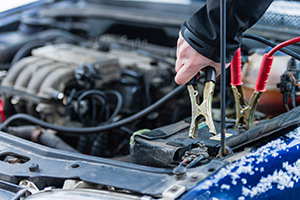 Hand warmers. These are the least expensive of items you should have in your car kit, but will be most valuable to you in a winter emergency. A quick web search will help you find the different brands available, or visit any outdoor or sporting goods store near you.
Waterproof matches and a fire starter. Be sure you pack a full box of matches. This is not an item to skimp on; should your car slide off the road in a remote area, matches are essential for building a fire, both for staying warm and signaling for help.
Flashlight with extra batteries. Replace the batteries each time you replace the perishables in your kit.
Headlamp. A flashlight is important, but a waterproof headlamp lets you be hands-free for adding chains to your tires, making repairs, or hiking out from an accident to get help.
Swiss army knife or small multi-purpose hand tool. Either of these tools will be essential as they have everything from a small knife and screwdriver to scissors and can opener.
Flares. These will allow other drivers to see your car in bad weather conditions and to signal for help.
Booster cables. A.K.A., jumper cables: the standard tool that everyone has heard of but not many actually keep in their car.
Mobile phone charger. Hand-crank cell phone chargers are getting better every year.
First aid kit. This does not need to be a complete kit, unless that's how you roll. At minimum, be sure you have large band-aids, antiseptic, gauze, and pain relievers.
Ice scraper. Don't skimp on this item. Buy a heavy-duty one with a sturdy handle.
Perishables
Food. This can be tough; how much food is enough in an emergency? Focus on non-perishable, nutritious, high-calorie foods you would eat. Have at least a day's supply for you and a passenger and keep them in zipper storage bags. At each change of seasons, replace with new non-perishables.
Water. Keep a case of water in each car and replace it when it is used up. It takes up room but is convenient any time you're thirsty. If you don't have room, keep a sealed half gallon container in your kit and replace when you replace the perishables. You can also invest in water purification tablets as a backup, which are handy to have for roadside emergencies or natural disasters.
If you have room, here are some other items to consider:
Windshield fluid. Snow brings out the snow plows and the sand for clearing roads. Keep an extra bottle of windshield fluid in the trunk so you don't run out when you need it most.
Chains. These are a heavy items that likely would not fit in a standard container. Unless you live in snow country, you only need to keep these in the car when you will be travelling to snow country.
---
Additional resources
Outside Magazine: What Do I Need in My Winter Emergency Car Kit?
Popular Mechanics: 7 Things You Must Carry in Your Car This Winter
Old Farmer's Almanac: Emergency Car Kit