Winter is the perfect time to tap into your home-efficiency skills. This infographic offers great tips to help improve energy efficiency (and prevent energy loss) around your home's doors, windows, fireplace, and more. Use these tips to help make your home more efficient this winter. You may even see an improvement in your utility bill charges.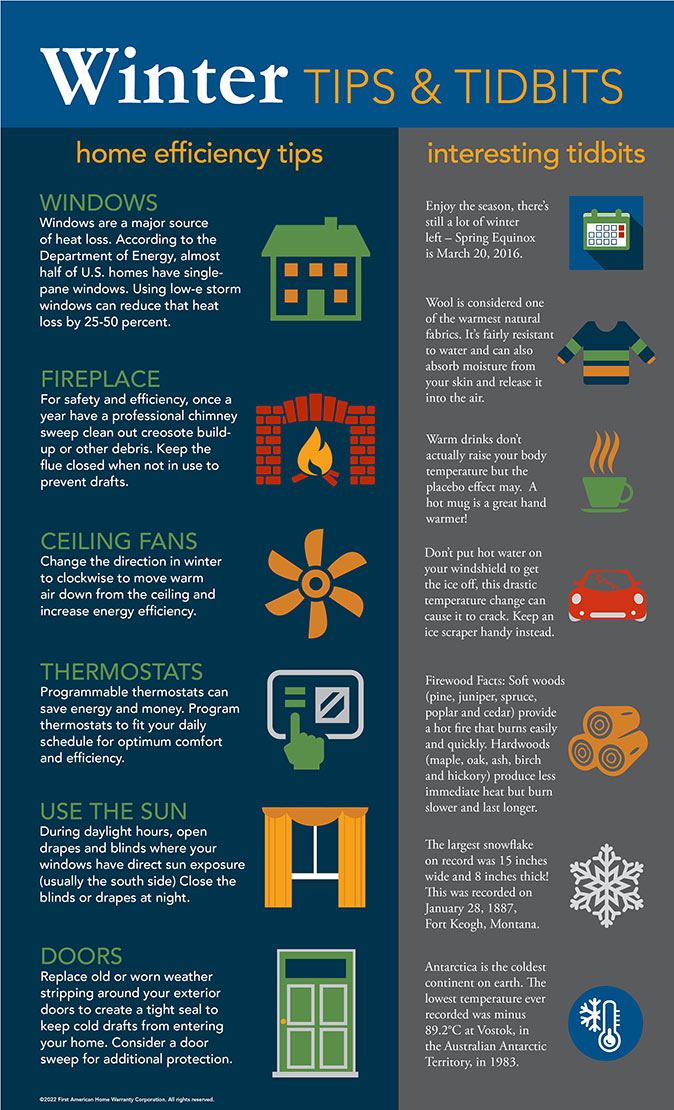 Home Efficiency Tips
Windows
Windows are a major source of heat loss. According to the Department of Energy, almost half of U.S. homes have single-pane windows. Low e-storm windows can reduce that heat loss by 25-50 percent.
Fireplace
For safety and efficiency, once a year have a professional chimney sweep clean out creosote build-up or other debris. Keep the flue closed when not in use to prevent drafts.
Ceiling Fans
Change the direction in winter to clockwise to move warm air down from the ceiling and increase energy efficiency.
Thermostats
Programmable thermostats can save energy and money. Simply program thermostats to fit your daily schedule for optimum comfort and efficiency.
Use the Sun
During daylight hours, open drapes and blinds where your windows have direct sun exposure (usually the south side). Close the blinds or drapes at night.
Doors
Replace the old or worn weather stripping around your exterior doors to create a tight seal to keep cold drafts from entering your home. Consider a door sweep for additional protection.
Interesting Winter Tidbits
Wool is considered one of the warmest natural fabrics. It's fairly resistant to water and can also absorb moisture from your skin and release it into the air.
Warm drinks don't actually raise your body temperature but the place effect may. A hot mug is a great hand warmer.
Don't put hot water on your windshield to get the ice off, this drastic temperature change can cause it to crack. Keep an ice scraper handy instead.
Firewood Facts: Soft woods (pine, juniper, spruce, poplar, and cedar) provide a hot fire that burns easily and quickly. Hardwoods (maple, oak, ash, birch, and hickory) produce less immediate heat but burn slower and last longer.
The largest snowflake on record was 15 inches wide and 8 inches thick! This was recorded on January 28, 1887, at Fort Keogh, Montana.
Antarctica is the coldest continent on earth. The lowest temperature ever recorded was minus 89.2°C at Vostok, in the Australian Antarctic Territory, in 1983.